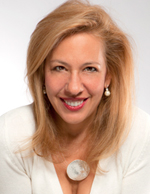 Carly Feigan is a native New Yorker, trained as a clinical nutritionist and certified herbalist in New York City. Carly has a Bachelor's Degree in Nutrition and is RD eligible and is working towards recertification in Lifestyle and Weight Management. Carly has maintained a thriving practice in midtown Manhattan for 15 years.
Carly has written nutrition columns in various health publications such as Natural Health, Fitness magazine, and To Your Health newspaper. She uses a holistic approach to weight management, integrating the body and the mind. Formerly with Equinox Fitness, Carly Feigan has motivated hundreds of people to reach and exceed their nutritional goals… naturally.
Carly has inspired large groups of people to change their lifestyle by changing their attitudes and awareness about health and wellness.
Carly presents to groups on various topics:
Learn How to Indulge without the Bulge,
Holiday Survival Kit: 10 Tips on How to Eat, Drink and Stay Healthy During the Holidays,
The Sweet Tooth: Demystifying the World of Sweeteners,
3 Simple Steps to Optimum Health and  Wellness,
10 Tips to Mastering Your Metabolism
Read about Carly from this article in Our Town newspaper.
Carly Feigan with Stephen Flam on Nutrition and Exercise

Call 212-706-4298 for your free 15 minute phone consultation with Carly, to see if you qualify for this program.